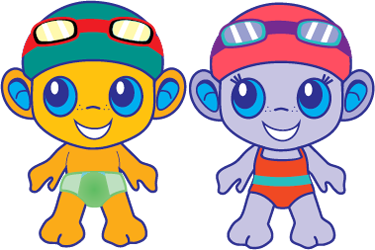 Baby program Class Size: 6 parents
Duration: 30min (baby steps-20mins)
Availability: Mon to Sat mornings.
PARENTAL SUPERVISION IS ALWAYS REQUIRED WHEN YOUR CHILD IS NEAR WATER.


Our infant program starts with a gentle introduction to water at 4months and continues to age 2 ½ -3 years. Skills are learnt through games and songs. Classes are structured according to individual skill level and age. Through education and repetition your child will develop early safety skills and a love of the water.
Our Baby Steps program is a FREE introductory program for 4-5month olds. A 20min lesson once a week for 8 weeks, this is an excellent introduction for mum and baby to the water. Provides an wonderful bonding opportunity , it's fun and a great way to network with other mums and dads. Terms & conditions apply.
6 Months-12months:


continuing to develop your childs love of water. Introducing buoyancy and controlled submersions, kicking,and breath control. Songs and games Educating parents.



12Months- 18months:





18Months - 2years:


Both these groups are starting to work on more advance skills as baby;s confidence and ability increases. Learning to return to safe places like the wall, entries, exits , kicking and paddling and continuing to educate parents are the goals of these groups. Songs and games
The last class before leaving the baby program. Children are becoming more independent although still under the guidance of the parents. Floating independently, returning to sides safely. Songs and games still included.
Congratulations. Your little one is now ready to enter our "squirts" program. They are ready to leave mum and dad behind and participate in a class by themselves.